Teach Me, Miss Litchi!
Comments

0
353pages on
this wiki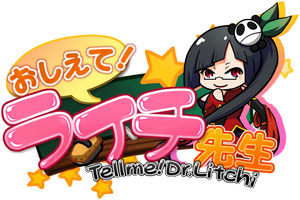 Teach Me, Miss Litchi! (also known as Tell me, Dr. Litchi!) is a series of small episodes focusing around Litchi attempting to teach Taokaka about the world in which they live. Each episode focuses on a different subject within the BlazBlue world, such as the NOL, Sector Seven, or the Ikaruga War. The series has been included in Continuum Shift, as well as its sequel, "Teach Me, Ms. Litchi Reloaded".
Teach Me, Miss Litchi is non-canonical, as stated in the first episode, and is only there to help players better understand the story and certain aspects of BlazBlue. These episodes are based on the help corners often featured in visual novels, and is in particular a shout-out to the popular doujin Tsukihime by TYPE-MOON, in which a help corner titled "Teach Me, Ciel-Sensei!" would appear for the player after arriving at a 'bad end'.
BlazBlue: Calamity Trigger EpisodesEdit
Episode 1 - "Opening"
Episode 2 - "The Three...Stooges?"
Episode 3 - "The Shorty and the Hard Guy"
Episode 4 - "Slacker 0, Good Guy 1"
Episode 5 - "Sec-tor Syeven!"
Episode 6 - "The Six Hewoes"
Episode 7 - "The Hero Will Be Late"
Episode 8 - "Epilogue"
BlazBlue: Continuum Shift EpisodesEdit
Episode 1 - "Reunion! The three girls from the academy"
Episode 2 - "I want to learn more about vigi-somethings!"
Episode 3 - "Touch bases with the secrets of the In-Oh-Elle! (En-OL in CS2 / Extend)"
Episode 4 - "A family's reputation can be tough meow."
Episode 5 - "Ars Armagus? Nox Nyctores? What the?"
Even though Nu-13 has a chibi form, she never appears during any of the segments.