Ad blocker interference detected!
Wikia is a free-to-use site that makes money from advertising. We have a modified experience for viewers using ad blockers

Wikia is not accessible if you've made further modifications. Remove the custom ad blocker rule(s) and the page will load as expected.
Vocal:
KOTOKO
Title:
TRUE-BLUE
Album:
PLASMIC FIRE <KOTOKO ver.>
Lyrics:
KOTOKO
Composition:
C.G mix
Arrangement:
C.G mix
"TRUE-BLUE" is a song by J-Pop singer Kotoko. It is used as the opening song for the console version of BlazBlue: Centralfiction, and the single was released on July 20, 2016.
Track listing
1. PLASMIC FIRE

Vocal: KOTOKO, ALTIMA
Lyrics: Maon Kurosaki, motsu
Composition: Satoshi Yaginuma

2. TRUE-BLUE

Vocal: KOTOKO
Lyrics: KOTOKO
Composition/Arrangement: C.G mix

3. PLASMIC FIRE (instrumental)
4. TRUE-BLUE (instrumental)
Music
Full Version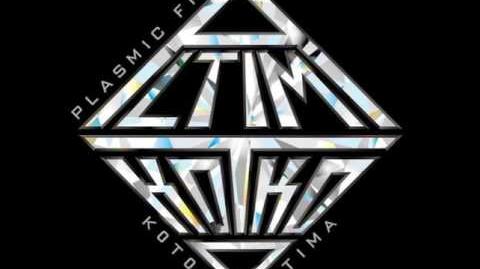 Opening Version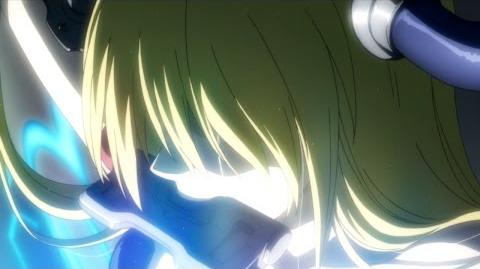 Lyrics
Kanji
Rōmaji
Translation

目蓋に触れた黒き風と何か…
人は生まれて 果てへと向かう

Mabuta ni fureta kuroki kaze to nanika…
Hito wa umarete hate e to mukau

憎しみ争う度 存在確かめ合ってる
正義や秩序だって 合わせ鏡の暴虐

Nikushimi arasō tabi sonzai tashikame atteru
Seigi ya chitsujō datte awase kagami no bōgyaku

終わる事などない願望を
この手は救えるか?
全てが歪むこんな世界で <狭間で>
何処へ向かえば見えるだろう?
今は行くしかない
無数の真実へ続く道を
蒼の終末を 探して

Owaru koto nado nai yume wo
Kono te wa sukueru ka?
Subete ga yugamu konna sekai de (hazama de)
Doko e mukaeba mieru darō?
Ima wa iku shika nai
Musū no shinjitsu e tsuzuku michi wo
Ao no owari wo sagashite

目に映るのは悪夢…それか現実
記憶の中を弄る刃先

Me ni utsuru no wa akumu… sore ka genjitsu
Kioku no naka wo masaguru hasaki

哀れみ優しさ抱いて 存在補い合ってる
空虚で不完全な人が創り出す時空で

Awaremi yasashisa daite sonzai oginai atteru
Kūkyo de fukanzenna hito ga tsukuridasu jikū de

希望と名をつけた道を
僕らは歩けるか?
破壊へ近づく空の下 <願った>
くだらないと嘆くのなら
己に問いかけよう
瞳濡らした記憶の意味を
出会い交わるその意味を

Kibō to na wo tsuketa michi wo
Bokura wa arukeru ka?
Hakai e chikazuku sora no shita (negatta)
Kudaranai to nageku no nara
Onore ni toikakeyō
Hitomi nurashita kioku no imi wo
Deai majiwaru sono imi wo

壊して 傷つけあって 痛みが鎖となり
この世が続いてゆくのだとしても
繰り返す闇の中で 何かに気付き始める
- 答はたった一つじゃない -

Kowashite kizutsukeatte itami ga kusari to nari
Kono yo ga tsuzuiteyuku no dato shite mo
Kurikaesu yami no naka de nanika ni kizuki hajimeru
- Kotae wa tatta hitotsu ja nai -

幾億色に惑う願望を
この瞳は選べるか?
全てが融合あう その狭間 <祈った>
例えこの身が消えようとも
世界は続いてく
永遠のような光の中で
燃え盛る蒼炎 抱いて

Ikuoku shoku ni madō yume wo
Kono me wa eraberu ka?
Subete ga tokeau sono hazama (inotta)
Tatoe kono mi ga kieyō to mo
Sekai wa tsuzuiteku
Eien no yōna hikari no naka de
Moesakaru ao idaite