Ad blocker interference detected!
Wikia is a free-to-use site that makes money from advertising. We have a modified experience for viewers using ad blockers

Wikia is not accessible if you've made further modifications. Remove the custom ad blocker rule(s) and the page will load as expected.
Vocal:
Toa Yukinari (

行成とあ

Yukinari Toa)
Title:
REVENGER
Album:
BLAZBLUE Vocal Album SONG IMPRESSION
Lyrics:
Faylan (

飛蘭

Feiran)
Composition:
Daisuke Ishiwatari (

石渡太輔

Ishiwatari Daisuke)
Arrangement:
Norichika Satō (

佐藤ノリチカ

Satō Norichika)
"REVENGER" is the theme of Bullet, with vocal by her seiyū Toa Yukinari.
Track listing
Music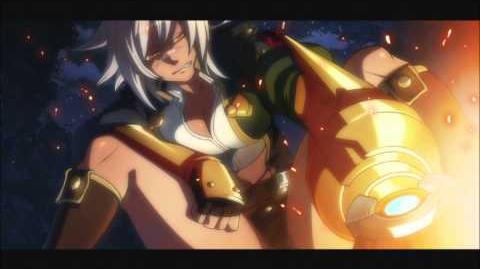 Lyrics
Kanji
Rōmaji
Translation

長く遠い この旅路の行く末 薄くぼやけ 振り払い
悪夢はどこまでも 迫り降る 報復の意を燃やせ


Nagaku tōi kono tabiji no yukusue usuku boyake furiharai
Akumu wa doko made mo semari furu hōfuku no i wo moyase

I shake off the dimmed destiny of this far long journey.
From everywhere, nightmares are approaching me And burn the meaning of retaliation.


ねえ あの頃が見れるなら
さあ リベンジを仕掛けてやろう
深く深く刻まれた 傷跡に賭けて

Nee ano koro ga mireru nara
Saa RIBENJI wo shikakete yarou
Fukaku fukaku kizamareta kizuato ni kakete

Hey, if I can watch those days.
Now, I shall launch revenge.
Betting on the deeply, deeply carved scars.


ひどく錆びた 常識なんていらない
生きる為の意味は
知る必要なんてないだろう
ただ此処に絆がある限り

Hidoku sabita jōshiki nante iranai
Ikiru tame no imi wa
Shiru hitsuyō nante nai darou
Tada koko ni kizuna ga aru kagiri

I don't need something like a badly rusted common sense
There's no need to know the meaning of living, right?
Just as long as this bond exists.


ねえ 動かない信念は 見逃すなど出来やしない
憎しみから染まってく 空の息さえも…

Nee ugokanai shinnen wa minogasu nado dekiyashinai
Nikushimi kara somatteku sora no iki sae mo…

Hey, I can't overlook an unmoving belief
Even the breath of the empty sky dyed by hatred…

どうして…やめて。奪って気が済んだ?
自業自得 味わうがいい!
痛烈は無償の力 捕まえて葬れば
強烈な命を生む 仇めば死を呼ぶ

Doushite… Yamete. Ubatte ki ga sunda?
Jigōjitoku ajiwau ga ii!
Tsūretsu wa mushō no riki tsukamaete hōmureba
Kyōretsu na mei wo umu adameba shi wo yobu

Why… stop. I feel like it was stolen?
I'm okay with tasting my own fault!
If hardness catches a gratuitous power
The eyes of revenge that produce an intense life will call death

ねえ 復讐が果たせたら
途切れた糸 繋がるかな
ねえ それさえも無理ならば
幻想の中でも…

Nee fukushū ga hatasetara
Togireta ito tsunagaru kana
Nee sore sae mo murinaraba
Gensō no naka demo…

Hey, if I fulfill my revenge, will the broken thread connect?
If even that is impossible, then even inside fantasies…