Ad blocker interference detected!
Wikia is a free-to-use site that makes money from advertising. We have a modified experience for viewers using ad blockers

Wikia is not accessible if you've made further modifications. Remove the custom ad blocker rule(s) and the page will load as expected.
"

I command you in the name of Kokonoe… Unleashing restriction zero… Engaging link with the Boundary. You who protects this gate… Unbind the nine locks that seal what lies beneath. I hereby seek… The power of the Great Magister Nine! Infinite Gravity!

―Kokonoe

"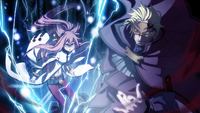 Infinite Gravity (無限重力, Infinitto Gurabiti) is a spell that was originally used by Konoe A. Mercury that involves the compressing and sealing of the soul of a Black Beast, which is then used as the catalyst for a Nox Nyctores. It was later used by Kokonoe in order to stop a newly recreated Black Beast from destroying the Sector Seven base.