"

Greetings lost children. I am Professor Kokonoe, genius scientist and ruler of the Sector Seven laboratory. … Well, OK, we aren't in the lab at the moment. This place can sort of be temporarily moved into the Boundary. Well, simply put, it's a mysterious room. A room where you can do anything you want. To be honest, it's a paradise for all those sad, little lost children who couldn't make it to the true ending. A sort of Avalon. If you're one of those nutbars who's all "I don't need help" or "I only want to unlock hidden stuff" or "I'll just look for a flowchart online," then you can piss off… Very well. Lost child of the day. You may enter.

―Professor Kokonoe, in the opening scene

"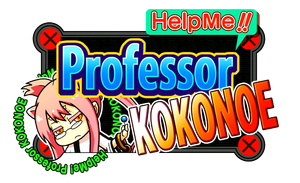 "Help Me, Professor Kokonoe!" (助けて!ココノエ博士, Tasukete! Kokonoe-hakase) is a new omake (like Teach Me, Miss Litchi!) in BlazBlue: Continuum Shift where Kokonoe Mercury gives advice to the playable characters so they can reach their true ending. These episodes are revealed when the playable characters have a bad ending.
"Help Me, Professor Kokonoe!" is very much like "Teach Me, Miss Litchi!" in that it bears seemingly as much humor as sensibly possible. Kokonoe indirectly breaks the fourth wall frequently, particularly during Lambda's segment, where she attempts to wrap up the show almost immediately on the grounds that she controls Lambda anyway. When Tager disputes this, she screams "What was that!? I don't think your friends on the other side of the monitor can hear you!" For some of the later segments, Kokonoe starts by claiming the show is a love clinic rather than a counseling room for assisting characters in reaching the proper ending to their story lines. Response to this by the characters is often awkward and humorous.
Episodes
Ad blocker interference detected!
Wikia is a free-to-use site that makes money from advertising. We have a modified experience for viewers using ad blockers

Wikia is not accessible if you've made further modifications. Remove the custom ad blocker rule(s) and the page will load as expected.