Vocal:
KOTOKO
Title:
碧羅の天へ誘えど (Hekira no Sora e Izanaedo)
Album:
碧羅の天へ誘えど (Hekira no Sora e Izanaedo)
Lyrics:
KOTOKO
Composition:
C.G mix
Arrangement:
C.G mix
"Hekira no Sora e Izanaedo" (碧羅の天へ誘えど, Invitation to the Blue Sky) is a song by j-pop singer Kotoko. The title track was used as the theme song for the console version of BlazBlue: Continuum Shift. By default, the song's chorus plays during a successful Astral Heat. In the Story Mode, the song is played during Ragna's final battle against Mu -No. 12- in BlazBlue: Continuum Shift and BlazBlue: Continuum Shift II.
Track listing
1. Hekira no Sora e Izanaedo (

碧羅の天へ誘えど

, Invitation to the Blue Sky)

Lyrics: KOTOKO
Composition/Arrangement: C.G mix

2. DIGITAL SNAIL (

デジタルスネイル

Dejitaru Suneiru)

Lyrics: KOTOKO
Composition/Arrangement: Kenji Arai (

新井健史

Arai Kenji)

3. Hekira no Sora e Izanaedo -instrumental-
4. DIGITAL SNAIL -instrumental-
Video
Full Version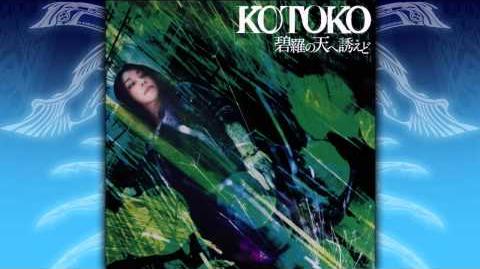 Opening Version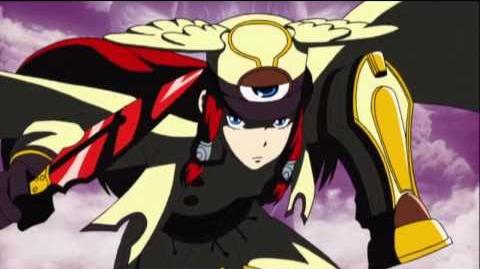 Lyrics
Kanji
Rōmaji
Translation

落ちて行く影に ふっと伸ばした手が
絡めとったように巻き戻る時間
幼き想い出 遠く去った記憶
慟哭の狭間に 浮かんで消えた

Ochite iku kage ni futto nobashita te ga
Karame totta yō ni maki modoru jikan
Osanaki omoide tōku satta kioku
Dōkoku no hazama ni ukande kieta

In the falling shadow's midst, I suddenly extend my hands
As I slowly entwine them, time begins to rewind
Recollections when I was young, and far off memories
In the lamentous boundary, they surface and disappear.

真っ直ぐに立つのが 何故こんなに辛いのか?
独りきりで行くと決めたはずなのに

Massugu ni tatsu no ga naze kon'nani tsurai no ka?
Hitori kiri de yuku to kimeta hazunanoni

Even though I stand uprightly, why has it become so bitter?
I should have decided to travel alone, nevertheless

歪みねじれた世界で 何を探すと言うのか?
信じたくて ただ 求めるだけ
孤独のランプで照らし 破壊の果ての明日を
ここから見つけよう
命に矢を引いて

Yugami nejireta sekai de nani o sagasu to iu no ka?
Shinjitakute tada motomeru dake
Kodoku no RANPU de terashi hakai no hate no ashita wo
Koko kara mitsukeyō
Mei ni ya wo hīte

In this twisted distorted world, what is it you say you're trying to find?
You're only seeking for something to believe in
The solitary lamp is shining, the tomorrow that results from destruction, we will discover it from here on out so,
Point your arrow towards destiny.

操られる街 創られた正義
聡明であるが故 流れてく涙
混沌に芽吹く花 解けゆく秩序
繰り返す今に 別れを告げて

Ayatsura reru machi tsukura reta seigi
Sōmeidearuga ko nagarete ku namida
Konton ni mebuku hana toke yuku chitsujo
Kurikaesu ima ni wakare wo tsugete

The manipuated city, the constructed justice
The reason for wisdom, the stream of tears
The flower that buds in the midst of chaos, the order which is falling apart
In this ever- repeating now, we said our good-byes.

空白の心を 何かで埋めたくて
傷ついた刃は 再び呼び合った

Kūhaku no kokoro wo nani ka de umetakute
Kizutsuita ha wa futatabi yobi atta

In the heart of the void, just what is buried there?
The blade which is hurt, is called once more


変わり始めた時空で いつかの声が囁く
本当の悪は目の前にあると
不毛だろうと言われても 守るために壊してく
いつかは蘇る 天があるのなら

Kawari hajimeta jikū de itsuka no koe ga sasayaku
Hontō no aku wa me no mae ni aruto
Fumōdarou to iwa rete mo mamoru tame ni kowashite ku
Itsuka wa yomigaeru sora ga aru nonara

In this space time which has just started changing, the ever-present voice is whispering
The real evil is right in front of your eyes
Even if you say it'll be unproductive, for the sake of protecting we destroy it
And someday it will be revived, if there is a heaven

ほんのひと時 宿る器
なのに どうしてこんなにも愛しい?

Hon'no hito toki yadoru utsuwa
Nanoni dōshite kon'nanimo itoshī?

For just a moment, I was lodged in the vessel
Nevertheless, why has this also become dear to me?

白い翼が羽ばたき 生まれ蠢く黒い影
光に今を奪われてく
選ぶ道が無限なら 霞むこの目を細めて ここから眺めよう
蒼に染まるまで

Shiroi tsubasa ga habataki umare ugomeku kuroi kage
Hikari ni ima o ubawa rete ku
Erabu michi ga mugen'nara kasumu kono me o hosomete koko kara nagameyō
Ao ni somaru made

The white wing is flapping, the newly born black shadow is squriming
The light is now being stolen
Since the choice of paths are endless, let's narrow this eye which is hazy, and stare from now on
Until the world is dyed in Azure
Ad blocker interference detected!
Wikia is a free-to-use site that makes money from advertising. We have a modified experience for viewers using ad blockers

Wikia is not accessible if you've made further modifications. Remove the custom ad blocker rule(s) and the page will load as expected.