Ad blocker interference detected!
Wikia is a free-to-use site that makes money from advertising. We have a modified experience for viewers using ad blockers

Wikia is not accessible if you've made further modifications. Remove the custom ad blocker rule(s) and the page will load as expected.
Vocal:
Hiroki Yasumoto (

安元洋貴

Yasumoto Hiroki)
Title:
GO in SOUL
Album:
BLAZBLUE Vocal Album SONG IMPRESSION
Lyrics:
Faylan (

飛蘭

Feiran)
Composition:
Daisuke Ishiwatari (

石渡太輔

Ishiwatari Daisuke)
Arrangement:
Norichika Satō (

佐藤ノリチカ

Satō Norichika)
"GO in SOUL" is the theme of Azrael with Hiroki Yasumoto's vocals.
Track listing
Music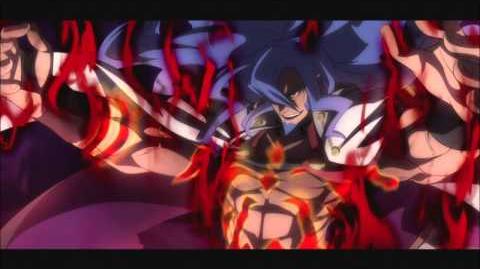 Lyrics
Kanji
Rōmaji
Translation

Right now さあ どう打ち消すか
Fight now 剥き出す 情動 エクスタシー
死を呼び破滅を笑む まとめて快楽のhell
打算? 何? 意味ないぜ もう 躰中燃えて burn this mind

Right now saa dou uchikesu ka
Fight now mukidasu jōdō EKUSUTASHĪ
Shi wo yobi hametsu wo emu matomete kairaku no hell
Dasan? Nani? Imi nai ze mou karadajū moete burn this mind

Right now, okay, how'd you deny it?
Fight now, strip your emotions, ecstasy
Call death, smile at doom, the hell of pleasure
Calculations? What's that? Even if it has no
meaning burn your whole body, burn this mind

GO! 邪魔だmove out GO! くらえkill you
GO! 呻き泣けperversion 狙え!
なあ、血祭りどれがいい?
GO! 堕ちろso down GO! 盛るenergy
GO! 力ずくでto strike 叫んだら…
我が身の エゴイスト 蠢く

GO! Jamada move out GO! Kurae kill you
GO! Umeki nake perversion nerae!
Naa, chimatsuri dore ga ii?
GO! Ochiro so down GO! Sakaru energy
GO! Chikarazuku de to strike sakendara…
Wagami no EGOISUTO ugomeku

GO! You're in the way, move out. GO! Take this, kill you
GO! Groan, cry, aim perversion!
Hey, which victimization is good?
GO! Fall so down. GO! Energy flourishes
GO! If it cries out by the strength to strike
The egoism of oneself wriggles

Don't stop さあ どう根絶やすか
Don't choose 独立不撓ぜ ファンタスティック
限界抑制のchance 探したら愉快へとfall
地雷より危ないぜ もう 自己服従の世へ hold up soul

Don't stop saa dou nedayasu ka
Don't choose dokuritsu futō ze FANTASUTIKKU
Genkai yokusei no chance sagashitara yukai e to fall
Jirai yori abunai ze mou jiko fukujū no yo e hold up soul

Don't stop. Okay, how'd you exterminate it?
Don't choose fantastic independent inflexibility
If you search for a chance of a limit restrain, fall into pleasure
Hold up your soul towards a world of self-submission more dangerous than mine

GO! 抜き上げろkick GO! 怯むなattack
GO! まだ終わらないpassion 進め!
なあ、トドメはどれがいい?
GO! 呼ぶぜdies God GO! 邪悪はheaven
GO! 無敵だろinsanity 渦巻けば…
己の バイオニクス 目覚める

GO! Nuki agero kick GO! Hirumu na attack
GO! Mada owaranai passion susume!
Naa, todome wa dore ga ii?
GO! Yobu ze dies God GO! Jāku wa heaven
GO! Muteki daro insanity uzumakeba…
Onore no BAIONIKUSU mezameru

GO! Outrun, kick! GO! A faltering attack
GO! Proceed the passion that hasn't been finished yet!
Hey, which coup de grace is good?
GO! Call it, dies God GO! Evil is heaven
GO! If unrivaled insanity swirls…
Awake your bionics 

やがてこのリミット持つ 全ての意味がわかるだろう

Yagate kono RIMITTO motsu subete no imi ga wakaru darou

In the end, the entire meaning of this limit
will be known, right?

GO! 邪魔だmove out GO! くらえkill you
GO! 呻き泣けperversion 狙え!
なあ、血祭りどれがいい?
GO! 堕ちろso down GO! 盛るenergy
GO! 力ずくでto strike 叫んだら…
殺りきった エゴイスト 綻ぶ

GO! Jamada move out GO! Kurae kill you
GO! Umeki nake perversion nerae!
Naa, chimatsuri dore ga ii?
GO! Ochiro so down GO! Sakaru energy
GO! Chikarazuku de to strike sakendara…
Yari kitta EGOISUTO hokorobu

GO! You're in the way, move out. GO! Take this, kill you
GO! Groan, cry, aim perversion!
Hey, which victimization is good?
GO! Fall so down. GO! Energy flourishes
GO! If it cries out by the strength to strike…
I'll smile broadly at my egoism