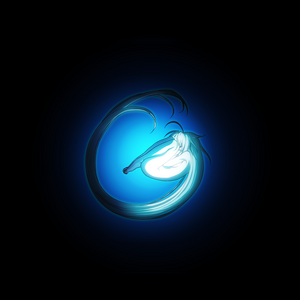 The Boundary (境界, Kyōkai) is the place where the various timelines intersect. It seems to be where things go after the events have already happened. Only a few can observe the multiple timelines in the Boundary, like Takamagahara and Rachel Alucard. It appears as an infinite dark empty space that is illuminated by anything living that enters it.
Information
Located inside the Boundary is the Master Unit, Amaterasu, the source of distortions in the timeline, which is why Takamagahara wanted Yūki Terumi to destroy it, as Amaterasu was in Takahamagara's way of them gaining complete control over destiny. Only the "Eye of the Azure" can find Amaterasu in the Boundary.
Also located inside the Boundary is the Azure, and it is described as being the true power of the Boundary itself. The Boundary is where most who came into contact received their abilities, which is a side effect of receiving vast amount of information from the said place. Full exposure, however, is deadly, as the physical body cannot withstand the whole of the knowledge. Jūbei described falling into the Boundary as a fate worse than death, as it felt like not only losing everything one ever was, but also everything one could ever be; in a sense, it takes away one's past and future.[1] Only those with exceptional strong will and spirit can travel through the Boundary and remain intact.[2]
There have been cases where the effect of coming into contact with the Boundary manifested itself.
The Boundary is also where Nu -No. 13-'s soul was salvaged, and later implanted onto Lambda -No. 11-.
According to Litchi's and Hazama's conversation, there is more than one Boundary.[4]
References
Ad blocker interference detected!
Wikia is a free-to-use site that makes money from advertising. We have a modified experience for viewers using ad blockers

Wikia is not accessible if you've made further modifications. Remove the custom ad blocker rule(s) and the page will load as expected.