To write a new article, just enter the article title in the box below.

Not sure where to start?

Find out more about the wiki on the About page.
If you are new to wikis, check out the tutorial.
Every wiki has two list of articles that need help called "Stubs" and "Wanted Articles".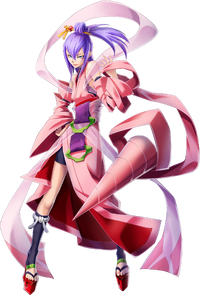 Amane Nishiki
is a young man who travels around to gather a troupe of young and handsome men. Upon stumbling across the news that a cute vigilante boy was heading for Ikaruga, he immediately sets out to look for him. As he finally meets the boy,
Carl Clover
, Amane asks him to join his troupe, but Carl declines and runs away. Amane chases after him, but encounters Rachel, who is suspicious of his mysterious nature. As they engage combat, they gain the respect of each other and Amane reveals his purposes: he claims that to dance on the greatest stage, also the greatest battlefield where greatest warriors gather is his wish.
Amane, as expressed through battle dialogue, is seemingly very haughty and arrogant. He conducts himself in a graceful and awkward manner, and seems to enjoy playing with his androgynous appearance by carrying a sash and parasol (similar to an oiran or geisha).
He is an androgynous male character with violet hair tied in a bun and blue eyes with dark pink eyeshadows and red lipstick. He wears a flowing pink and red kimono that exposes his shoulders underneath is sleeveless black skintight turtleneck, black shorts and legwarmers, and red platform sandals. He also sports a translucent pink scarf which appears to levitate through unknown means.