To write a new article, just enter the article title in the box below.

Not sure where to start?

Find out more about the wiki on the About page.
If you are new to wikis, check out the tutorial.
Every wiki has two list of articles that need help called "Stubs" and "Wanted Articles".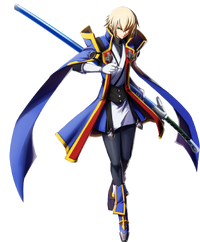 Jin Kisaragi
was a Major and 4th Thaumaturgist Squadron Commander of the
Novus Orbis Librarium
.
When Jin was a little boy, he was very dependent on his older brother, Ragna, for affection and constantly pestered him to play with him. He saw his sister Saya as an obstacle of getting his brother's attention and constantly bullied her in retaliation. Eventually, Ragna decided to look after the sickly Saya and distanced himself from Jin, thus increasing his jealousy.
It was then
Yūki Terumi
entered Jin's life and told him about the
Black Beast
, that it would be born from
Ragna
, and that he is destined to destroy it. Deciding that his brother must pay for his ignorance, and to get rid of the obstacle between them,
Saya
, Jin left
Terumi
to do as he pleased, including burning the church where they stayed and murdering
their caretaker
. When
Ragna
arrived, he only watched in shock as
Terumi
cut off his arm, and kidnapped
Saya
. Jin later vanished from
Ragna
's life, and apparently his memory of that incident was blocked off.
What's your favorite theme from the Chronophantasma era?