Home
Talk

25
578pages on
this wiki
To write a new article, just enter the article title in the box below.

Not sure where to start?

Find out more about the wiki on the About page.
If you are new to wikis, check out the tutorial.
Every wiki has two list of articles that need help called "Stubs" and "Wanted Articles".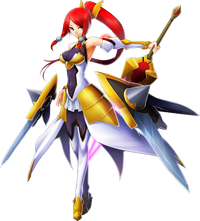 Izayoi
is the form
Tsubaki Yayoi
undertakes after the spell the
Imperator
placed on her forces her to unleash the full power of the
Sealed Weapon Izayoi
. The spell ends up being broken by
Jin Kisaragi
, but how she is freed is not revealed. Turning away from the darkness of the past, she now takes up her sword to punish all crimes and seek out the
true light
. After a battle with
Makoto Nanaya
, Tsubaki somehow regains herself once more, but feels lost as now she knows the Imperator's justice is a lie. However, with the support of
Hakumen
and
Noel Vermillion
in her
true form
, taking up her sword once more, she decides to fight for the justice she believes in and for the friends she cherishes.
Izayoi is shown to retain Tsubaki's desire for justice, but her awakening is under a much more sinister light. She believes that the Imperator and the NOL are not to be defied, and that she is the Sword of the Imperator herself, and gives Noel, Makoto and Jin death sentences. She also refers to herself as the true light.
Once freed from the Imperator's spell, and after battling Makoto, Tsubaki becomes lost and confused because the "justice" that she has lived by her whole life was all a lie. On her journey to discover the true meaning of justice, she discards all personal biases when judging others, even her own friends.