Home
Talk

21
354pages on
this wiki
To write a new article, just enter the article title in the box below.

Not sure where to start?

Find out more about the wiki on the About page.
If you are new to wikis, check out the tutorial.
Every wiki has two list of articles that need help called "Stubs" and "Wanted Articles".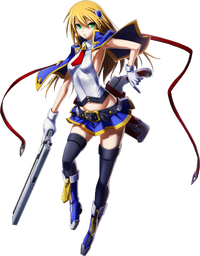 Noel Vermillion
was born on December 25, 2194, by
Sector Seven
as "dimensional boundary contact medium No. 12". She was rescued at the burning fields of Ikaruga and adopted by the Vermillion family, specifically by Edgar and Claire Vermillion.
The Vermillion family was once a noble one, but the head of the family, Edgar Vermillion originally hadn't an heir before he adopted Noel and after heavily criticizing the Librarium, the Vermillions lost their aristocratic rights and their family was sentenced to relegation from the NOL.
During her life in the Vermillion household, Noel obtained her Nox Nyctores named Arcus Diabolus: Bolverk, after she was attacked by a monster in a forest. A few years after her adoption, she found out about the upcoming banishment of the Vermillion household from the NOL and afraid of the Vermillions' future, she decided to take the entrance exam for the Military Academy in Torifune. And even though her physical and academical level wasn't very high, her synchronization rates with the armagus were the highest recorded ever, allowing her to pass the exam and enter the Academy in year AD 2196.
In the Military Academy she became friends with Tsubaki Yayoi, Makoto Nanaya, and Carl Clover. Jin Kisaragi, however, treated her like dirt (to put it mildly), purely because she shared the same face as his sister.
Six months before her graduation and shortly after Jin's promotion to a major and commander of the 4th division, Noel was given an offer to immediately join the army as a lieutenant in the 4th division of the Praetorian Guard. She should officially only be Jin's secretary, but in reality she would actually be a special solo soldier tasked mainly with intelligence and assasination. In return, the Vermillions' reputation and rights would be restored. Noel accepted the offer for the sake of her family.
Afterwards, she was assigned in year AD 2198 as Jin's direct subordinate, though he still treated her just as poorly, if not worse. When Jin left his post to chase after Ragna the Bloodedge, Noel was assigned a mission to bring back Jin to his post, with explicit instructions not to engage Ragna, should she encounter him.
Noel doesn't remember her past. She is actually
Mu-12
, the previous replica before
Nu-13
. They both share the same voice, face, and memories of
Saya
. Since she was the only survivor of the burning field of Ikaruga, she is the "
Eye of the Azure
", the true possesser of the
Azure
.
Which female character do you find most attractive?