To write a new article, just enter the article title in the box below.

Not sure where to start?

Find out more about the wiki on the About page.
If you are new to wikis, check out the tutorial.
Every wiki has two list of articles that need help called "Stubs" and "Wanted Articles".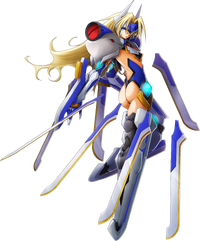 Mu-12
is the true form of
Noel Vermillion
. Through
Yūki Terumi
's ambitions, she fused with the true
Azure
, and awoke as the
Sword of the Godslayer Kusanagi
, someone who can kill a God. She has an order to destroy the
Master Unit, Amaterasu
. She goes to
the open Gate
, where she fights
Hakumen
and
Jin Kisaragi
, defeating them both. When
Ragna the Bloodedge
comes, he finally defeats the Godslayer by awakening Noel's mind, but sacrifices his left arm in the process. Thanks to
Rachel Alucard
, Noel regains Mu's powers and abilities in order to save
Tsubaki Yayoi
with the power of the Azure. She no longer possesses the same cold, destructive personality she had after her initial awakening, retaining Noel's personality and memories instead. While Noel Vermillion is the definition of a "shrinking violet", Mu-12 is completely the opposite: she becomes emotionless, and wants the world to be destroyed. She only acts based on Terumi's orders, and she believes that the world "hates her", and is filled with nothing but lies. However, after Noel gained control over her powers and transformation into Mu, she now retains her normal personality and emotions when in Mu's form. Upon transforming willingly, Noel noticeably becomes more "in control" of her emotions, as opposed to when she felt as though she blacked out when fighting using Bolverk. She is also shown to be more confident and outspoken.