Astral Heat
Comment

1
354pages on
this wiki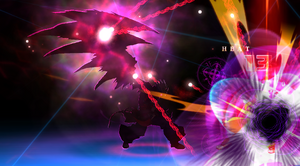 Astral Heats
are incredibly powerful attacks that unleash the users' inner strength and once the opponent is ensnared in the attack, victory is assured.
Information
Edit
In the arcade version of Calamity Trigger, only three characters - Ragna the Bloodedge, Rachel Alucard, Nu-13 - can use Astral Heat. In the home versions, other Astrals can be unlocked by beating Arcade Mode with specific characters other than the aforementioned three.
In the second game - Continuum Shift - Astral Heats become available for all characters in the Arcade versions. Each of the commands have been changed. If the character's portrait is shining, it is the signal that indicates the Astral Heat is available.
Specification
Edit
Astral Heats can exist in combos. As of Continuum Shift, by successfully beginning an Astral Heat, the game's theme song's chorus can be heard. This is:
Conditions
Edit
Calamity TriggerEdit
Can be performed in final round
Opponent's health must be on (or below) 20%
Heat Gauge 100%
Continuum ShiftEdit
Can be performed on "match point"
Opponent's health must be on (or below) 35%
Heat Gauge 100%
One Burst Icon
Burst Icon does not exist in Beginner/Stylish Mode.
ChronophantasmaEdit
Can be performed on "match point"
Opponent's health must be on (or below) 35%
Heat Gauge 100%
List of Astral Heats
Edit