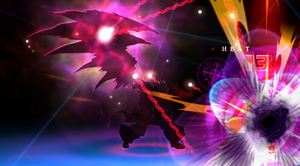 Astral Heat
(

アストラルヒート

Asutoraru Hīto)
is an incredibly powerful attack that unleash the user's inner strength and once the opponent is ensnared in the attack, victory is assured.
Information
In the arcade version of BlazBlue: Calamity Trigger, only three characters – Ragna the Bloodedge, Rachel Alucard, Nu -No. 13- – can use Astral Heat. In the home versions, other Astrals can be unlocked by beating Arcade Mode with specific characters other than the aforementioned three.
Since the second game – BlazBlue: Continuum Shift – Astral Heats became available for all characters in the Arcade versions. Most of the commands have been changed. If the character's portrait is shining, it is the signal that indicates the Astral Heat can be used.
Specification
Astral Heats can exist in combos. As of BlazBlue: Continuum Shift, by successfully beginning an Astral Heat, the game's theme song's chorus can be heard.
Conditions
BlazBlue: Calamity Trigger
Can be performed in final round
Opponent's health must be less than or equal to 20%
Heat Gauge 100%
BlazBlue: Continuum Shift
Can be performed on "match point"
Opponent's health must be less than or equal to 35%
Heat Gauge 100%
One Burst Icon
Burst Icon does not exist in Beginner/Stylish Mode.
BlazBlue: Chronophantasma
Can be performed on "match point"
Opponent's health must be less than or equal to 35%
Heat Gauge 100%
BlazBlue: Centralfiction
Can be performed on "match point"
Opponent's health must be less than or equal to 34%
Heat Gauge 100%
Astral Heat list
This page lists only Astral Heats and their imputs from the latest installment. Descriptions and possible changes between installments are noted in command lists.
Input
Name
Character
Black Onslaught (ブラックオンスロート Burakku Onsurōto)
Ragna the Bloodedge
Hold , then
Purgatory Ice Night (煉獄氷夜 Rengoku Hyōya)
Jin Kisaragi
Valkyrie Veil (ヴァルキリーベイル Varukirī Beiru)
Noel Vermillion
Clownish Calendula (クラウニッシュ・カレンデュラ Kuraunisshu Karendyura)
Rachel Alucard
Hold ,
Attack Nyamber One (あたっくにゃんばーわん Attaku Nyanbā Wan)
Taokaka

(delayable)
King of Tager (キングオブテイガー Kingu obu Teigā)
Iron Tager

(after Ready Hand: Pair Wait)
Pure Nine Gates (九蓮宝燈 Chū Ren Pōtō)
Litchi Faye Ling

(midair also)
n infinity (n無限大 n mugendai)
Arakune

(midair only)
Shishigami Ninja Art – Hot-Blooded Final Secret: "The Ultimate Bang" (獅子神忍法・熱血最終奥義・「究極萬駆」 Shishigami Ninpō – Nekketsu Saishū Ōgi: "Kyūkyō Bangu")
Bang Shishigami
Deus Ex Machina (デウスエクスマキナ Deusu Ekusu Makina)
Carl Clover
Hold , then
Void Formation Secret: Perish Evil (虚空陣奥義 悪滅 Kokūjin Ōgi: Akumetsu)
Hakumen
Sword of Destruction (滅びの剣 Horobi no Tsurugi)
ν-No.13-
Λ-No.11-
Holy Judgment: Goddess That Judges Men (審聖・人ヲ裁ク神 Shinsei: Hito wo Sabaku Kami)
Tsubaki Yayoi
Dark Burning of Thousand Spirits (千魂冥烙 Senkon Meiraku)
Hazama
Sword of the Godslayer (カミゴロシノツルギ Kamigoroshi no Tsurugi)
μ-No.12-
Planet Crusher (プラネットクラッシャー Puranetto Kurasshā)
Makoto Nanaya
Blut Vollmond (ブルート・フォルモント Burūto Forumonto)
Valkenhayn R. Hellsing

(midair also)
Shining Layered Force (シャイニングレイアードフォース Shainingu Reiādo Fōsu)
Platinum the Trinity
Altar of the Puppet (アルター・オブ・ジ・パペット Arutā obu ji Papetto)
Relius Clover
Judge of Destiny (ジャッジオブディスティニー Jajji obu Disutinī)
Izayoi
Youth Giving Life Luster: "Karma Crushing Embrace" (若得命華『業破抱擁』 Jakutoku Meika "Gōhahōyō")
Amane Nishiki
Hard Kill Bringer (ハードキルブリンガー Hādo Kiru Buringā)
Bullet
Patriot Apocalypse (パトリオットアポカリプス Patoriotto Apokaripusu)
Azrael
Black Dragon Heaven Soaring Thunder Blade (黒龍天翔雷刃 Kokuryū Tenshōraijin)
Kagura Mutsuki
Armament No. 99: "The Ultimate Impact Final Apocalypse" (武装No99「最終決戦破壊事象アルティメットインパクト」 Busō No99 "Saishū Kessen Hakai Jishō Arutimetto Inpakuto")
Kokonoe
God's Return: The Serpent Beheading Violent Hungry Seal (神帰り・大蛇斬頭烈封餓 Kamigaeri: Orochizantō Reppūga)
Yūki Terumi
Atout Rilettes (アトゥ・リエット Atu Rietto)
Celica A. Mercury
Heavenly Disappearance: "Wailing Crow" (天晦 「哭鴉」 Amatsugomori: Nakigarasu)
Hibiki Kohaku
Edge of Eternity (エッジ ・ オブ ・ エタニティ Ejji obu Etaniti)
Naoto Kurogane
Endless Sky of the Colorless Descent -Colorless Void- (降臨せし無色の終天無極 -カラーレスヴォイド- Kōrinseshi Mushoku no Shūten Mukyoku -Karāresu Voido-)
Nine the Phantom
Eternal Darkness (常世の闇 Tokoyo no Yami)
Izanami
Type: Exterminator – "Artorius" (Type:Exterminator「アルトリウス」 Taipu: Ekusutāminētā "Arutoriusu")
Es
Red Confront: "Scarlet Lotus of the Pale New Moon" (朱臨「緋蓮蒼朔耶」Sharin "Hirensō Sakuya")
Mai Natsume
Roar of the Insane King: The Serpent Annihilation (狂王ノ咆哮・大蛇滅殺 Kyoō no Hōkō: Orochi Messatsu)
Susanoo
Ad blocker interference detected!
Wikia is a free-to-use site that makes money from advertising. We have a modified experience for viewers using ad blockers

Wikia is not accessible if you've made further modifications. Remove the custom ad blocker rule(s) and the page will load as expected.